U-CD American/International/National/UKC CH

Wencinja's Out of the Kwestion

AOM CGC CD RA ATD WPD WTD WWPD AAAM

           "Kwin"

Born on September 9, 2005, Kwin is my first "show" dog and it has been a real learning experience handling him myself in the conformation ring. Kwin's show career started with a bang, with him taking a puppy group 3 at just 7 months old. Shown on a limited basis due to our preferance for working whenever the weather cooperates, Kwin finished his AKC Champoinship by taking BOB for a major over 6 specials. Along the way Kwin picked up a 5 point major, and an AOM. Kwin also earned his UKC and International/National titles with group placements.

Every bit as important, Kwin has been running with my team since he was 5 months old and has grown into the enormous potential he showed from the moment he was first hooked up. He easily earned his WPD, WTD and WWPD titles and has a leg towards his WWPDX title.

Working Hard 'N Playing Hard

                                                                                                             BIS/A/C/CHSNOBOE'S NEVER BETTER
BIS/A/C/CH MOONSNOE DIAMOND IN THE JEWEL
CH ROBERT'S KIVA
CH MOONSNOE DARK STORM CHASER (Guss)
                                                                                                              CH WILLIWAW'S TIP O' THE ICEBURG                                                                                      
CH SNOWTIP'S EXCUSE MY DUST
                                                                                                             A/C/CH WILLIWAW'S SILVER EAGLE                                   
Can Ch. Moonsnoe True Grit CD RN
                                                                                                             BIS/A/C/CH SNOEBOE'S NEVER BETTER                                                                                       
CH PHANTOMRUN ALASKAGOLD O' SNOBOE
CH KINARTICS SEXY MADONNA
                                                                CH PHANTOMRUN MOONSNOE GREEN ENVY
                                                                                                             CH BYEYO'S MAD MAX OF KETCHICAN                                                                                       
CH PHANTOMRUN REACH FOR THE SKYE
CH PHANTOMRUN LADY SASHA
BPIS American/International/National Ch. Wencinja's Intl Man of Mystery
                                                                                                              BISS Ch. Targhee's Kodiak, ROM                                                                                       
BIS, BISS Am. & Can. Ch. Williwaw's Kokiak Cub, ROM
CH Williwaw's Ivaloo of Targhee, ROM
BIS BISS Am/Can Ch. Braemal's Alyeska Tuaq ROM
                                                                                                              Can. Ch. Sno Buck's Haida Chief
                                                                                       Am. & Can. Ch. Sno Buck's Spirit of the Sun, CD
                                                                                                              Ch. Chukchi's Chilcotin Rose                                   
BISS Am/Can/Int Ch. Williwaw's Falling Star
BIS, BISS Ch. Nanuke's Winter Magic, ROM
BIS, BISS Ch. Nanuke's A Rushin Revolution, ROM
Ch. Northeast Scarlet Fever, ROM
Snowtip's Williwaw Windance ROM
BIS, BISS Am & Can.BI Ch. Williwaw's Kodiak Cub, ROM
                                                                                       Am. & Can. Ch. Williwaw's Silver Eagle
                                                                                                             Ch. Williwaw's Rain Dancer
                                                                                                              Ch. Northeast Scarlet Fever

                                                                                        Ch. Onan's Echoes in the Wind

                                                                                                             Ch. Onan's Legacy of Topam

                                                                                                             Ch. Black Ice's High Speed Chase

                                                                                                              Williwaw's Black Ice Kiviat

                                                                                                             Ch. Sendaishi's Diamond Jim WTDX

                                                                                       Misty Pak's Worth A Lick

                                                                                                             Ch. Misty Pak's Hot Ticket

                                                                                                             CH MAZAR'S OPTIMUM OVERDRIVE

                                                                                       BIS/A/C/CH SNOBOE'S NEVER BETTER

                                                                                                             CH SNOBOE'S GLORY SUNSHINE

                                                                                                             BIS/A/C/CH BYEYO'S IM MATHEW'S STAR

                                                                                                             CH BYEYO'S SPANKY

                                  Can Ch. Moonsnoe Jewel In My Dust

                                                                                                             ATUN'S NANUK OF NIPCHOOK

                                                                                       CH WILLIWAW'S TIP O THE ICEBURG

                                                                                       A/C/CH WILLIWAW'S SILVER EAGLE

                                                                                                             A/CH WILLIWAW'S RAIN DANCER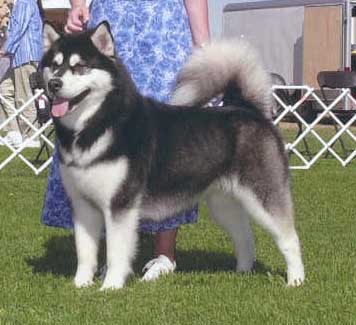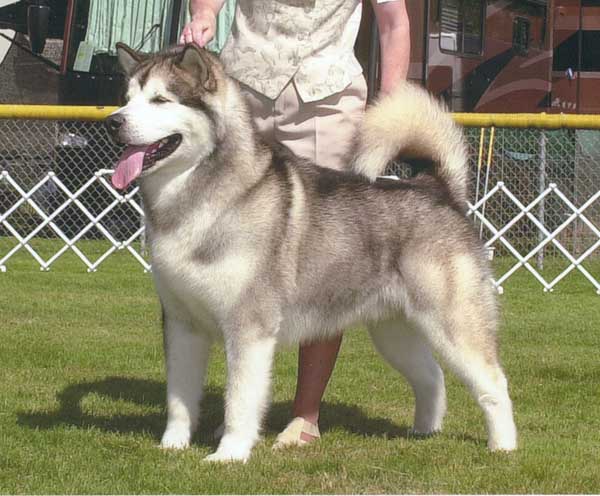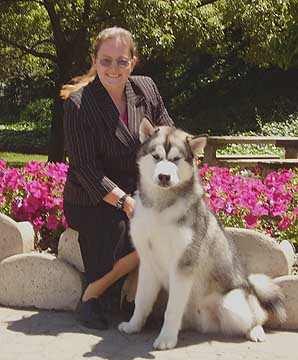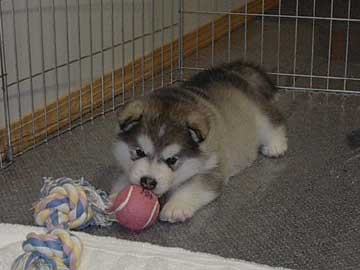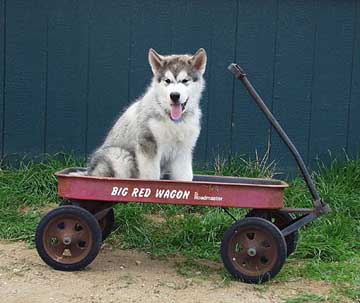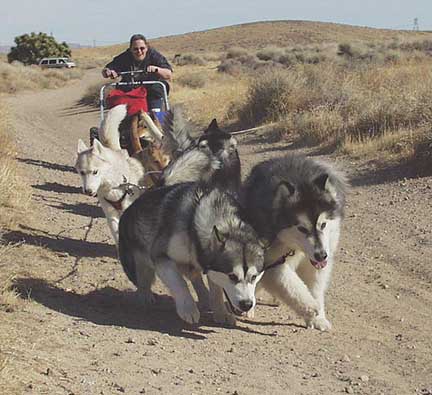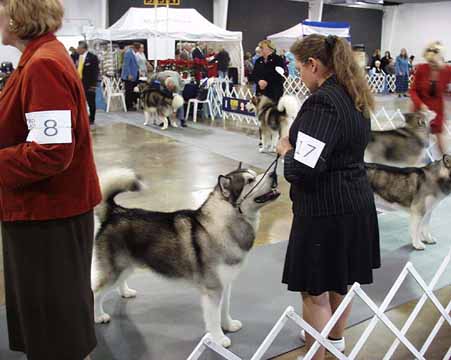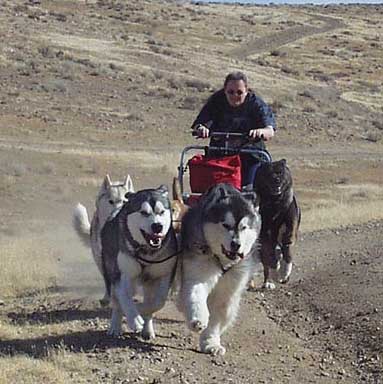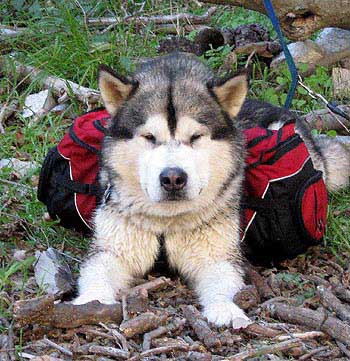 Kwin is one of the most powerful and focused dogs I've ever had the privlege of working with. Be it running in the team, weight pulling, or packing, Kwin just never lets up. Though he will run in any position on my team including lead, he's proven to be an incredibly powerful wheel dog. And at the end of a long tiring day he likes nothing more than to crawl into a lap and give bear hugs and cuddles to anyone who will sit still and doesn't mind being flattened.

Kwin finished  his CD in three straight trials with scores of 194, 191, and 195 - in the ribbons at all three trials. At the same trials he also showed in Rally and  earned two 99's and a 95 and won first place all three times.  He also completed his Rally Advanced title in the ribbons. Now on to Open Obedience and Rally Excellent!

In 2011 Kwin became the second Malamute in the history to the breed to be awarded the All Around Alaskan Malamute title by the Alaskan Malamute Club of America!

A huge thank you to Tina and Brent Robbins

for letting this special guy come live with me.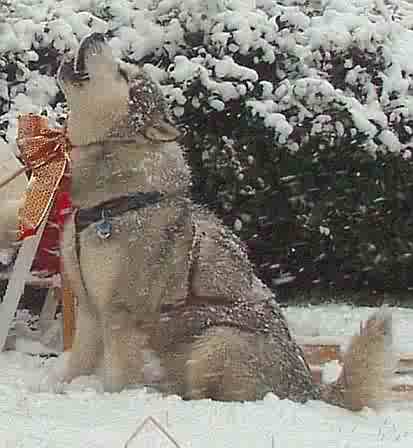 Date of Birth - September 9, 2005

Height /Weight - 25"/88 lbs

CHD - #13614

OFA Hips - #AM-12418G30M-VPI "Good"

OFA Elbows - #AM-EL424M30-VPI "Normal"

CERF Eyes - #AM-2735/2011-75

CHIC - #46343

AKC DNA #V509834

Coat Length - DNA Test #11279 - N/N Clear

UC Davis Coat Color Test - White:Non Carrier  (EE)

                                             Red:Non Carrier  (BB)

                                              Blue: Non Carrier (DD)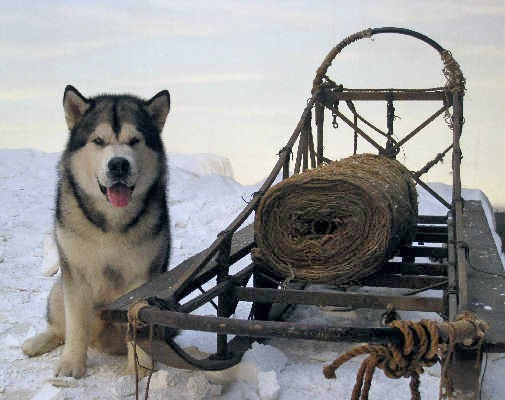 Kwin appeared in

the 2010 Dos Equis Commercial

"Stay Thirsty My Friends"