Holiday Jingle Belle

CDX RN CGC WTD WPD WWPD

"Holly"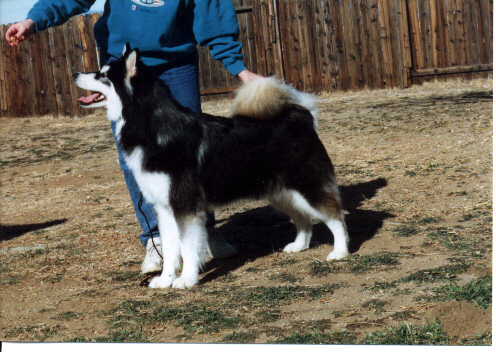 On the morning of December 19, 1998 I looked out in my front yard and thought, "that looks like a Malamute standing in the street." Naturally such an observation required a closer look so out I went. A physically good example of the breed she wasn't, with her long soft coat, fine bone structure, and large high set ears. She did however have that wonderful gentle Malamute temperament and was just delighted when I petted her and checked her over for I.D. None was to be found and since I was heading out of town for the day I thought it would be best to take her down the street to animal control where her owners could easily locate her.

Three days later the phone call came. Apparently the dog's owners had shown up however they were not there to claim her. Instead they were dropping off two others. The family had acquired a new Christmas pup and thought it best to dispose of their adult dogs by dumping them out near my house. The Malamute had stuck around while the two lab crosses took off for home. This time they were making sure the labs stayed gone. While they were doing so one of the kids spotted the Malamute and mentioned that she was theirs as well.

I rushed home from work to go bail her out all the while thinking, "what the heck am I doing." At home waiting for me was Kiva my Korean Jindo who tolerates other female dogs in public but wasn't likely to be at all happy with one on her turf. There was also Tasha my cat, and without any real knowledge on the background of the Mal I had serious concerns about them coexisting. With all this weighing heavily on my mind I figured I could at least house the Malamute in the pen in my garage and see to it that she was well cared for until a permanent home could be found.

I shouldn't have worried. Upon their first introduction Kiva play bowed, the Malamute responded in kind, and 10 minutes later they were curled up together asleep. They have been best buddies ever since. When shown my cat the Malamute rolled over on her back and lay there while Tasha washed her face. Thus two days before Christmas and much to my utter and complete surprise, our little family suddenly had grown by one rescue dog.  I have to admit, she's got to be one of the best Christmas gifts I've ever gotten.

The day after Christmas my good friend Nancy came up and between the two of us we got the poor dog cleaned up. Under a thick layer of blown coat that hadn't been removed, dirt, and muck, a rather pretty dog appeared. More petite than I initially had thought, and with a coat that was both soft and long, she wasn't exactly a stunning example of the breed. . She seemed to be young, one to two years old was the guess, and was delighted with almost everything we did. We decided she needed a name to fit the time of year and she was christened "Holly."

I soon discovered a large number of strikingly similar looking dogs living in my area, and when I enquired about them the reason became clear. Up until a year before there had been a local man breeding dogs and selling them as "rare Angora Malamutes." I cringed when I heard that, but after the fifth or sixth person reporting the same thing I had to believe it was true. According to several people I talked with he had acquired his original dogs from a pet shop, and then inbred on them selecting for the long soft coats. Some time before I moved to the area his dogs became ill and he disposed of them, which is the reason I had not heard of him before. My suspicions that this accounted for Holly's background were confirmed when her previous owners showed up at the animal control office to turn in their Christmas pup. They proceeded to demand Holly back due to the fact that they were in possession of her AKC papers and had paid a lot of money for that "rare dog." The Animal Control Officer refused to give them information on her whereabouts of course, but she was kind enough to let me know about the incident.

Holly's arival was made all the more ironic by the fact that at the time I was searching for a Malamute pup. Holly wasn't exaclty the show dog of my dreams, but she was a delight and very bright.  It was a bit of a shock to discover she knew how to turn doorknobs, unlatch gates, turn on the stove, and open the kitchen cabinets. I did have a great use for all those problems solving skills however. My Malamute pup might still be a ways in the future, but fate had sent me a dog that would be a kick to take into the obedience ring.   I sent off  I.L.P. paperwork for Holly and soon she officially became "Holiday Jingle Belle."

In April of 1999 Holly and I headed out to a local clubs match where they were offering CGC certification, and she came home with three extra letters after her name. In December of the same year, almost exactly one year after showing up on my doorstep, Holly and I walked in the Novice A ring and walked back out with a third place ribbon and the first leg towards her title. On May 7th, 1999 Holly and I attended the Hollywood Dog Obedience Club's trial.  When all was said and done we ended up with a score of 196.5, which delighted me, and earned us a first place as well as that all-important third leg. At the end of the day we took home the high scoring Malamute trophy, and much to my surprise we beat a Rottie with it's OTCH to take home the high scoring working dog trophy as well. What a way to finish Holly's CD. I was very pleased, and very proud of my little rescue girl.

In the years since I origionally wrote this, Holly kept very busy. She earned her working pack dog title in 2002, her working team dog title in 2003, and completed her CDX in July of 2003.  In July of 2006 I dusted her off and with almost no practice she earned her Rally Novice title with two perfect 100's and in the ribbons every time. Along the way she picked up 3 legs towards her weight pull excellent title, but never quite finished it. 10 years after she found me, and at an age of 12+, she attended the 2008 Alaskan Malamute club of America Regional/National where she had the time of her life bouncing around the ring as the center of attention in the parade of veterans and title holders. She also competed in veterans obedience winning her class both days, and competing in Rally B against the young dogs and also winning her class both days.

Along the way Holly helped me raise a series of puppies - which I think was probably her favorite "job" of them all. Kwest was her first and very much her protege. She took Kwin firmly under her paw and gave him some gentle but firm direction. Jeep shared her joy and enthusiasm for anything and everything. And in September of 2012 Holly helped me welcome my first litter into this world and dedicated herself to giving them the very best start.

On November 1, 2012 - almost 14 years after entering my life and at over 16 years of age - Holly decided that she'd finally accomplished everything she needed to accomplish. She left behind a very deep hole in our lives and her passing represented the end of an era. But Holly would have wanted us to celebrate her life rather than mourn her passing, and so I prefer to view it as the beginning of a new adventure and to remember her through the puppies she adored and helped raise.